ROOF OF THE WORLD
The fifth Zack Kelly thriller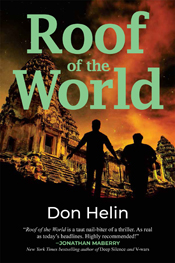 Eleven o'clock at night. A knock at the door. Who would bother Cho'den, a ninety-year-old Tibetan woman living near Washington, D.C. at this hour? Did something bad happen to her son, a leader in the resistance movement against the Chinese control of Tibet? She opens, fearing bad news. Worse than bad news. It's The Death Angel.
Suspecting a Chinese assassin to be openly operating on American soil, Colonel Zack Kelly, a member of the President's national security team, is tasked to investigate the murder of Cho'den.
Accompanied by Skye Tenzin, an alluring Tibetan educated in England, the two depart for Tibet under the guise of tourists on vacation. Zack is thrust into a whirlwind of international intrigue, political maneuvering, and a seemingly endless army of Chinese assassins. When Zack's host in Beijing is captured by the Chinese and Skye is arrested, he breaks for the border with Nepal. Meanwhile, the Death Angel continues his deadly rampage in the U.S.