MISSING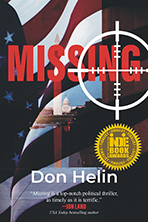 The sixth Zack Kelly thriller
High-level election officials mysteriously disappear from key presidential election swing states. A nursing home franchise in Minnesota keeps patients chained to their beds. Former General Frederick Farmington, a populist candidate with a radical protectionist agenda, inexplicably soars in the polls.
Are these incidents connected? Colonel Zack Kelly and his national security team suspect persons unknown within the president's inner circle of aiding Farmington by tampering with the election.
Zack's partner, Rene Garcia, infiltrates the Farmington campaign. She uncovers a plot to rig the election by hacking into state computers and using artificial intelligence to "cook the books."
Zack finds the roots of the conspiracy run so deep they penetrate the lives of not only his team, but also his father, daughter, high-school classmates, and his first love of years ago.
Racing against time, Zack has to dig deep and use all his skills to rescue his colleagues from vicious killers who will stop at nothing to seize presidential power.
Not all of them will survive.