LONG WALK HOME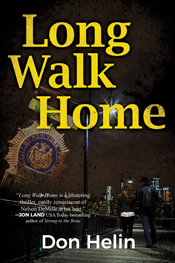 The fourth Zack Kelly thriller
To Colonel Zack Kelly, a trip to New York City is more than an opportunity to bond with his daughter, Laura. It's a chance to find out once and for all what happened to his father, an NYPD cop shot down and killed by drug dealers, then branded a dirty cop some thirty years before.
Someone doesn't want Zack to learn the truth of his father's past. When he arrives to talk to one of his father's partners, he finds the man assaulted and on the floor of his apartment. Another partner is gunned down after meeting with Zack.
Zack suspects the corruption his father was investigating may reach as high as the New York City Police Commissioner. Or maybe even higher?
Zack's long-time friend, Shelia O'Donnell, is visiting New York from her home in Ireland. Shelia accompanies Zack to see the leader of the New York organized crime family, who may be able to provide information about his father. But can he trust a "Godfather"?
Laura Kelly is caught up in an hijacking aboard the Staten Island Ferry. Meanwhile Zack's partner, Lieutenant Colonel Rene Garcia, uncovers a plot by a group of ex-military called the Forgotten Warriors to take over the Alamo in San Antonio.
Zack suspects these two events are connected and to find the solution, he'll have to take the longest walk of his life. And it may not even lead him home.